NYC Elopement Photographer
Complete Guide: How To Plan A New York City Elopement Or NYC Intimate Wedding.


Increasing numbers of couples are choosing to elope or have an intimate wedding in the New York City area. It is still challenging for couples who do not live in New York or are traveling abroad to plan a wedding in the city. Several reasons make New York City a great place to get married. The problem is that there are so many different places in New York City that it can be hard to pick just one. From waterfront locations with astonishing views of the Manhattan skyline to Central Park's unique seasonal foliage, many are tucked away in the cities' corners and offer a distinct atmosphere and scenery.
In this guide, you'll find all the answers to your questions about eloping or having an intimate wedding in New York City.
My approach to wedding and elopement photography, regardless of their size, whether an elope ceremony for two or a wedding for 100, is the same, using a modern editorial style to document couple stories.

Essential Wedding Planning Tips For NYC Elopements And Intimate Weddings
Who: Newly engaged couples, couples without time to plan, those who want a secret wedding, couples who've always dreamed of an intimate wedding or don't like traditions, couples who want to save money, bride and groom who have always dreamed of getting married in a scenic location in New York City.
The benefit of an intimate wedding or elopement is that you also have all your favorite people there.
When: Weekdays because why not? Consider the possibility of holding your wedding on a weekday since most Central Park events occur on weekends. An excellent way to ensure increased privacy and fewer crowds are to schedule your ceremony during the week. A micro-wedding or elopement is a great way to save money, which is often essential to couples just starting planning.
Spring and autumn are the most popular wedding seasons in New York City. Be creative with your wedding date, and you'll enjoy even better prices during months such as December, January, February, and March.
Where: Manhattan Rooftops and Central Park are the most popular locations for NYC elopements. An elopement wedding has many significant advantages, including having your ceremony at any iconic location in NYC and your wedding reception at any fantastic restaurant in Manhattan or Brooklyn. It is a creative approach, and you can take advantage of it when you have a small number of guests.
Top Locations for an iconic elopement wedding In NYC :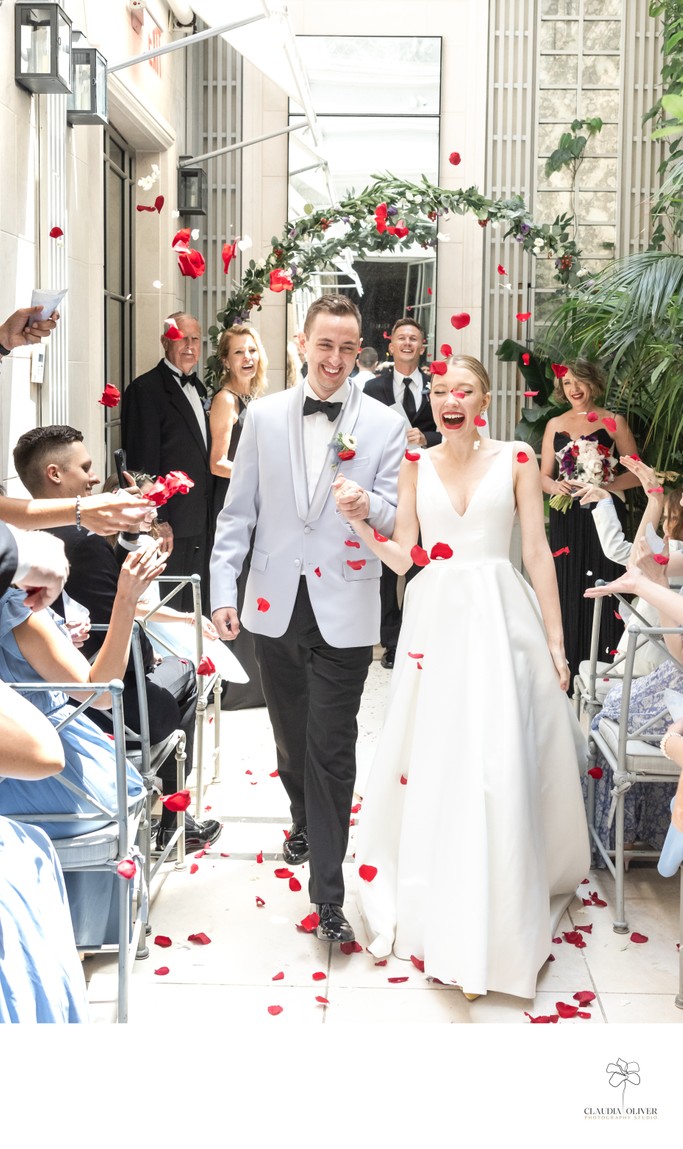 If you've always dreamed of getting married in the Lowel Hotel
Did you know that they have Intimate Ceremony dinners for up to 20 people?
The Original Elopement Spot: City Hall
The City Hall is an excellent choice if you're looking for a classic venue. It is the original location in NYC for eloping—and, to this day, it continues to be one of the most popular locations for eloping in NYC.
What are the benefits of choosing City Hall for your elopement? The following are some of the reasons why:
Budget-friendly: New York City Hall is one of the most affordable wedding venues in the city, and it even offers its own officiant, so there is no need to hire one separately.
It's easy to find: Located right in downtown Manhattan
It has stunning architecture: No matter which angle you look at it from, City Hall is a sight to behold. Make sure that you and your wedding photographer take some time to take some photos on the steps of this impressive building!
To get information on how to get married in NYC, Visit New York City Marriage Bureau website


Claudia's artistry inspired our decision to get married in New York City
The Best Rooftops to Elope In NYC
If you would like a dramatic skyline backdrop in the heart of Manhattan, there is no shortage of stunning rooftop locations in the city. High-rise buildings will provide a beautiful backdrop to your nuptials, and these rooftops offer a variety of exclusive amenities.
Top Locations At Central Park For An Elopement Wedding
What Do You Need To Know About Getting Married In Central Park?
The central park requires a Special Events permit for weddings with more than 20 guests. Permits are processed within 30 days.
There are often events at the park that can create undesired traffic or crowds on your special day, even though the central park is very spacious and holds plenty of people. Take note of any walks, marathons, concerts, festivals, or other events, and plan accordingly. You might be better off going to a permit-only area of Central Park if you are worried about tourists and crowds, such as the Conservatory Garden.
Elopement or intimate wedding planning in NYC: Our Top Tips
The Intimate Wedding: What Is It?
An intimate wedding is a smaller-scale celebration with a guest count of 20 or fewer people. It also has a shorter and much more simplistic timeline. Intimate weddings will have a short ceremony and a more casual and relaxed reception (if the couple opts for one).
Intimate weddings and elopements, whether on a Manhattan rooftop, in Central Park, or at Rockefeller Center's 260 Loft, one of the city's most historic and iconic rooftop venues, can be tailored to fit your individual needs.
The Benefits of An Intimate Wedding (Micro-Wedding)
Couples who choose micro-weddings say they provide the same memories of a traditional wedding but are less stressful and more affordable. With its utterly customizable nature, this unique event is an ideal way to personalize your celebrations.
Now, the traditional marriage format is evolving so rapidly that there are more names you may be hearing thrown around as you begin to plan. While some people plan micro-weddings purposefully, others spontaneously throw together a mini ceremony.
What Is The Difference Between An Intimate Wedding And An Elopement?
The intimate or micro-wedding remains more similar to a traditional wedding – on a smaller and more manageable scale. Elopements are typically for couples who want more freedom to choose their location, guests, and details.
Your initial impression of an elopement is a Vegas-style celebration. The couple has an intimate and slightly spontaneous wedding with (maybe) a handful of guests and no actual planning. But this isn't always the case. It is possible to combine traditional and non-traditional elements and turn them into an elopement wedding - even if this is contrary to your original plan.
An elopement places all of its emphasis on the unity of the couple. It provides freedom for the couple to choose what they want at a fraction of the price and stress that either traditional or micro-weddings provide. These ceremonies celebrate love and focus on your happiness (your wallet may be the happiest with an elopement!).
Pros And Cons Of Having An Intimate Wedding And Elopement
PROS: NYC Intimate Wedding
Lower Cost Than Traditional Wedding

Selective guestlist

Customizable

Micro-wedding packages (new at many venues as it becomes trendier!)

COVID-19 friendly

Relaxed feel

Intimate

Two different locations for the wedding ceremony and reception
CONS: NYC Intimate Wedding
PROS: NYC Elopement
CONS: NYC Elopement
NYC Elopement Tips & FAQ
New York City now offers online or in-person marriage licenses.
Please visit www.nyc.gov/cupid for applications.
Couples must arrive on time for their in-person marriage license appointment. Marriage Licenses cost $35 and are valid for 60 days from the date of purchase.
In New York City Hall, wedding ceremonies have resumed, but only one witness (your photographer) is allowed. You must apply for your marriage license from the City Clerk in advance (online or in person) and hold the marriage license for at least 24 hours before you can legally get married. The City Clerk releases marriage license and ceremony appointments every Monday at 9 a.m. EST.
I can help you plan your NYC elopement and provide you with a list of resources, including florists, officiants, and, why not, vintage taxis or cars, as well as hotel recommendations.
All our elopement photography collections are fully customizable and start at $800.
It does not matter if you choose outdoor or indoor location for an elopement; just be prepared for bad weather with a backup plan. Ask your venue if they can provide a lounge or rooftop for a brief ceremony or first look before booking."
Final Thoughts
There you have it! Everything you need to know about planning an NYC elopement or intimate wedding. These are especially popular now and will help you walk down the aisle stress-free and on a budget.
Photography coverage will remain the same regardless of the path you choose to celebrate your love. In the end, we'll cover every step of a traditional wedding, from getting ready to the getaway with your spouse (yes, you can still have your sparkler exit or use that convertible car!). Emotions will be high, and we'll all be there for you.
A NYC elopement can seem overwhelming with so many wonderful locations to choose from.You can find the perfect place for your special day with some research, preparation, and luck. In addition to historic locations, lush parks, and stunning rooftops, museums, and more, there is a venue for every couple to turn their dream elopement into a reality.
We are providing photography services in Manhattan New York City, Upper West Side, Soho, Noho, Little Italy, Chinatown, Midtown Manhattan, Lincoln Square, Manhattan Valley, Lenox Hill, Upper East Side, Carnegie Hill, Sutton Place, Columbus Circle, Gramercy Park, Rockefeller Center, Diamond District, Theater District, Turtle Bay, Midtown East, Tudor City, Times Square, Hudson Yards, Hell's Kitchen, Herald Square, Tribeca, Financial District Chelsea, Flatiron District, Meatpacking District, Union Square, NoMad, Rose Hill, NoHo, Lower East Side, Civic Center, Bowery, West Village, Nolita, Lower East Side, Greenwich Village, East Village, New Jersey, Connecticut, Hudson Valley, Philadelphia, Battery Park City†, Washington D.C, Virginia Miami, Manhattan, East Hampton, Westbury, Brooklyn, Queens, Westchester, Long Island, Southampton, Montauk, Shelter Island, Fire Island, Hoboken, Jersey City, Lake George, Huntington, Tarrytown, Woodbury, Glen Cove, Long Beach, Great Neck, Garrison, Boiceville, Cornell, East Norwich, and all other destinations around the world.