best maternity photographer nYC
MOTHERHOOD PHOTOGRAPHED IN A FASHION EDITORIAL STYLE: ELEGANT, MODERN, AND TIMELESS
I specialize in editorial maternity, newborn, and motherhood portraits, capturing the essence of pregnancy and early motherhood in an elegant, timeless manner with beautiful compositions.
The purpose of my photographic work as a maternity photographer is to capture images that will convey your unique experience in a way that looks great in a magazine, is timeless, and is instantly recognizable as belonging to that era.
HOW DOES MY STYLE DIFFER FROM OTHERS?
It has not been by chance that during the past 15 years I have learned that the best photographs will stand the test of time. I have noticed that it is very common to see trends that most photographers follow that belong to a particular era or period but are outdated after a few years. One thing that makes my work different from most others is that I try to make things as contemporary as possible. My personal brand will reflect your sense of style, and I will provide a customized session.
WHAT TO eXPECT iN yOUR mATERNITY pHOTO sESSION?
When it comes time for your professional portrait photos with me, you will feel relaxed, pampered, and empowered. In the end, a specialized session will be designed to produce a portrait showing the essence of your pregnancy. It is never more fulfilling than creating images that capture and celebrate our clients' lives than creating portraits that highlight the lives they've built.
PRE-CONSULTATION: CREATING YOUR MATERNITY SESSION SPECIFICALLY TO SUIT YOU
After you book your session, we'll schedule a call so we can start planning your photography session. During the pre-consultation, I will walk you through every step, including wardrobe and posing. We design our sessions around your needs, and I provide you with inspiration to help you choose your style and poses. I am able to create many different looks with lighting, backdrops, and clothing. During the Pre-consultation, The session is personalized specifically to you, making sure that every detail is perfect. The priority is to make you feel relaxed and confident.
MATERNITY PHOTOS: WHEN TO TAKE THEM?
If you would like to do a maternity shoot around 27 to 3 weeks of pregnancy, that would be the ideal time. However, pregnant women can do a shoot as long as they do not get too close to their due dates and are able to move around with a growing pregnancy belly.
DO YOU INCLUDE YOUR WARDROBE?
The maternity session includes an exclusive wardrobe selection. We will discuss the different looks in our complimentary pre-consultation.
Makeup artists are available upon request ( not included in price)
Find out what you can expect from your photoshoot, pricing information, and tips to prepare for the session in our MATERNITY GUIDE.
POST CONSULTATION: your ordering session
When I deliver the image gallery of your session, we will have the opportunity to talk over the phone or in the studio with you about ordering prints, wall art, and or albums.
There are a number of fine art products in our Italy-made line of curated products, including: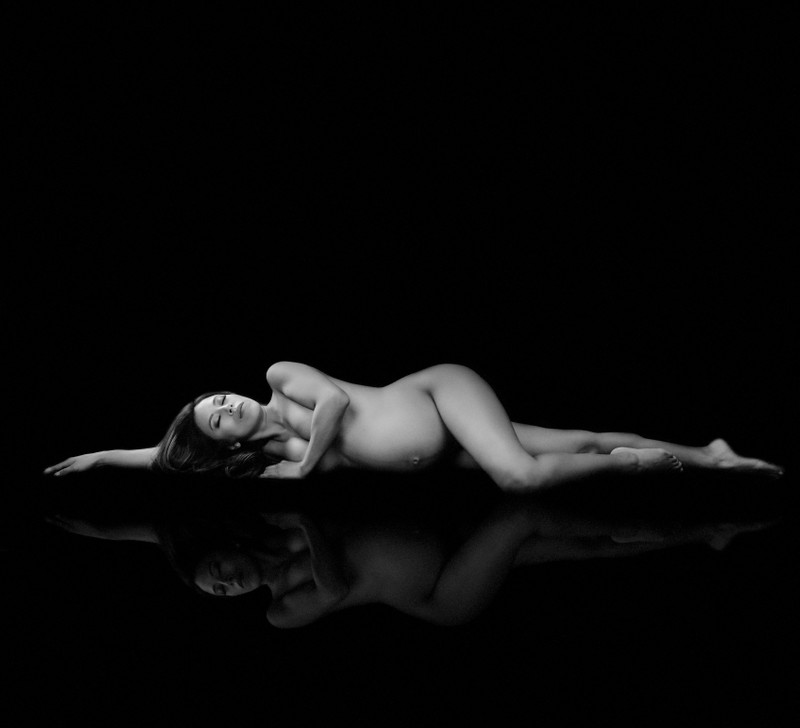 Artistic Nude Maternity Photography NYC


Book your session today and take pregnancy photos you'll want to feature in a magazine!
Follow my studio on Instagram @claudiaoliverstudio to see my latest work


F.A.Q. FREQUENTLY ASK QUESTIONS: MATERNITY PHOTOGRAPHY NYC
Here are the most Frequently Asked Questions we receive about our maternity photography sessions in New York City.
Tips and what to expect included!
Our maternity photography Collections include:
High-Resolution Images
Magazine-style airbrush retouch images
Pre and Post-consultation
Creative Session fee
To learn more about our photography prices see our MATERNITY GUIDE
The best time to take maternity photos is between 27 and 34 weeks (or between the seventh and eighth months of pregnancy).
During the early weeks of pregnancy, your baby bump will be somewhat rounded; after 34 weeks, you will probably feel tired and too heavy.
However, there is an exception; if you are expecting twins or triplets, the ideal time for your maternity session would be during your second trimester.
Keeping in mind that every session is personalized, I can incorporate as many looks as you want, usually three or four.
I offer photography packages that include both maternity and newborn sessions, and you have the option to upgrade after your maternity session if you are not ready to commit to both.
The final images included in your collection are all retouched.
Taking maternity photos can be a wonderful way to capture this special time in your life, however, sometimes they may seem a little too real. I offer editing and retouching services to ensure that your photos look amazing and reflect the beautiful woman you are. My experience allows me to remove dark circles, blemishes, or any other unwanted imperfections from your skin so that you will feel confident and stunning in your photos.
Taking a perfect maternity portrait starts with posing and lighting that are flattering, but it does not end there. The addition of a few retouching touches can make your images more stunning.
I highly recommend taking maternity photos in my studio, as it is the perfect setting for a modern magazine-style maternity photoshoot. Why choose my studio? Different looks can be achieved with lighting, backdrops, clothes, and, of course, air conditioning.
Additionally, you can hire a hair and makeup stylist from my preferred vendor list (your makeup and hair will last throughout the session and you can have touch-ups if needed). On-location maternity sessions can be arranged upon request.