DC Engagement photographer: Top engagement photo locations
There are so many amazing locations in Washington, DC to take engagement photos, and I wanted to put together a list of some of the best places! Many places in DC require permits in order to have professional photos taken.
Here are the best locations in Washington DC for engagement photos
Washington DC National Monuments
Union Station
Georgetown Waterfront Park
C & O Canal
United States Capitol
National Cathedral
CityCenterDC
Supreme Court
The Steps at Meridian Hill Park
Rock Creek Park
Old Town Alexandria
Spanish Steps
Yards Park
District Wharf
Georgetown Row Houses
Library of Congress
Easter Market
National Gallery of Art
Brookside Botanical Gardens
Book Hill Park
Francis Scott Key Bridge
Meadowlark Botanical Gardens
Wilkes Street Tunnel
National Harbor Boardwalk
Annapolis, Maryland
Glen Echo
Blind Whino (Super Colorful Church)
Library of Congress
Tudor Place
Barracks Row Main Street
Theodore Roosevelt Island
Any Metro Station
Georgetown Row Houses
James Madison Memorial Building
The Friendship Arch in Chinatown
The Watermelon House
Washington DC Skyline from Arlington, VA
American Art Museum / Portrait Gallery
The Kennedy Center Roof Terrace
Spanish steps Washington DC
Artechouse DC
C & O Canal
A list of the best locations in Washington DC for engagement photos on the National Mall
As far as engagement photos go in Washington, DC, the monuments have no doubt won the title of being the most popular location!
Lincoln Memorial
Lincoln Memorial Reflecting Pool
Watergate Steps
Thomas Jefferson Memorial
Tidal Basin
World War II Memorial
World War I Memorial
D.C. War Memorial
Washington Monument Grounds
Martin Luther King, Jr. Memorial
Smithsonian Castle
Washington Monument
Signers' Island
Constitution Gardens
Photographs taken at these iconic locations make for absolutely stunning backdrops. Many people are surprised to learn that permits are required for professional photo sessions at monuments that are usually packed with tourists snapping away with their cameras and cell phones. The National Park Service maintains all memorials and monuments, and their permit application can be found here. There is a fee of $90 for the application and a fee of $50 for the location. (If you intend to take wedding photos at the monuments, the fees may be higher depending on the number of people in your bridal party.)
What is the best time of day to take engagement photos at the national mall?
My suggestion would be to plan your engagement session at sunrise in order to keep the number of tourists as low as possible, especially if you wish to take photographs of the monuments.
LINCOLN MEMORIAL
One of the most popular monuments for taking photographs is the Lincoln Memorial. A classic DC location like the giant staircase and marble columns makes sense that so many people want to take their engagement photos there.
CITYCENTERDC
CityCenter's unique seasonal art installations make it a great backdrop for urban-style engagement photos in Washington DC. If you're a couple living and working in the city, CityCenter is worth considering.
YARDS PARK
As well as its unique urban structures and park areas, Yards Park is surrounded by the Potomac River in the distance. Although Yards Park is not a common place to take engagement photos in Washington DC, it is becoming increasingly popular among couples who want the Potomac River as a backdrop for their engagement photos.
UNION MARKET
Take advantage of Union Market's heart wall/Never Give Up mural to document your love story! The colorful hearts of this iconic mural make it an obvious choice for engagement photos since it is among DC's most famous street art locations. A few other murals can be found in the Union Market area, including Yoko Ono's quote ("Relax. Your heart is stronger than you think!"), the colorful Human! mural, and the giant eye by the Angelika Pop-Up.
SUPREME COURT
A Supreme Court monument is a great option if you want the look of monuments without having to worry about paying permit fees.
MERIDIAN HILL PARK
It is located in the Columbia Heights neighborhood and contains many great photo spots, including Meridian Hill Park, which is also known as Malcolm X Park. The fountain is only on during certain times of the year, and even during the summer months, the water may be turned off for repairs. As with the monuments, Meridian Hill Park is administered by the National Parks Service, so the same permit requirements apply.
SPANISH STEPS
In the middle of the city, the Spanish Steps provide a little oasis of green in the middle of the city! It is located in a residential neighborhood known as Kalorama, between Decatur Place and S Street, in the center of Minneapolis.
THE WHARF
A combination of urban neighborhoods and waterfront views is available at The Wharf for a wide variety of engagement photographs. Take a walk down the piers and giant swings, rent kayaks or paddle boards, or ride a water taxi,]. Engagement photography at the Wharf does not require a permit. Check the neighborhood's events calendar before choosing a date, as there are frequent large gatherings and concerts here.
EASTERN MARKET
A popular neighborhood for engagement photos is Eastern Market in DC. You'll also find lots of murals in the neighborhood, and Capitol Hill Books is just around the corner if you're into books!
NATIONAL GALLERY OF ART
You can take indoor engagement photos at the National Gallery of Art if the weather isn't ideal. In the East and West buildings, there is a cool light tunnel that connects the two buildings. There is a beautiful open atrium in the East building, and there is also a magnificent staircase. Furthermore, two buildings are filled with artwork! No photography permit is required, but they do not permit flash photography, so be sure to call ahead to make sure there are no special events taking place.
HISTORIC OLD TOWN ALEXANDRIA
Here is one of the most popular places I shoot engagement photos in DC that isn't in DC. From the waterfront to the beloved cobblestone streets, the historic Old Town of Alexandria offers a variety of views
ARTECHOUSE
Artechouse, DC's newest museum, exhibits seasonal interactive art as part of its permanent collection. To find out what exhibits are on display and to purchase tickets, it is recommended that you check the Artechouse website prior to visiting the museum to find out what exhibits are on display. In addition to the interactive art spaces, Artechouse also features a small bar where you can use augmented reality to interact with cocktails as part of your experience.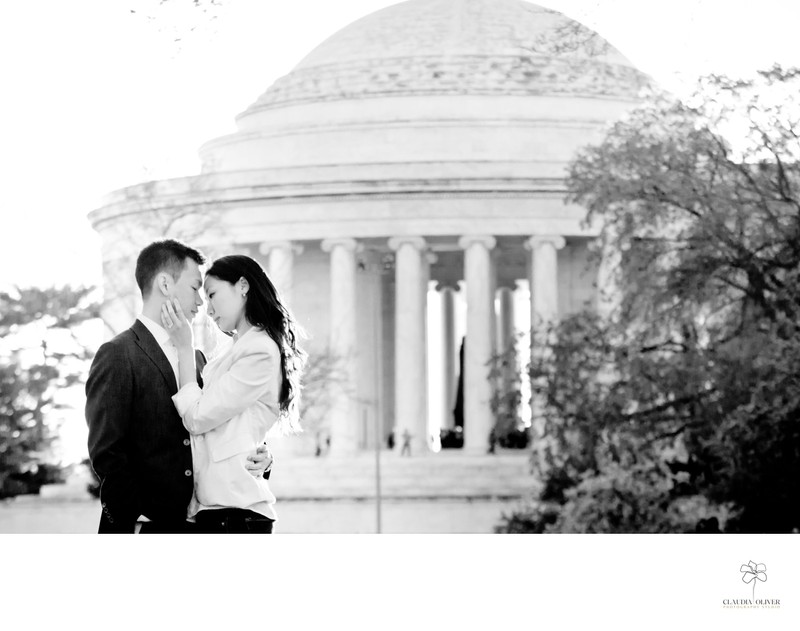 I can't wait to bring your engagement photos vision to life
Looking for a Washington DC Engagement Photographer