The Ultimate Guide For Your Wedding At Vizcaya
A historical museum with a European feel: Miami's Top 10 Most Popular Wedding Venues

A Stunning Evening Ceremony Site At The Garden Mound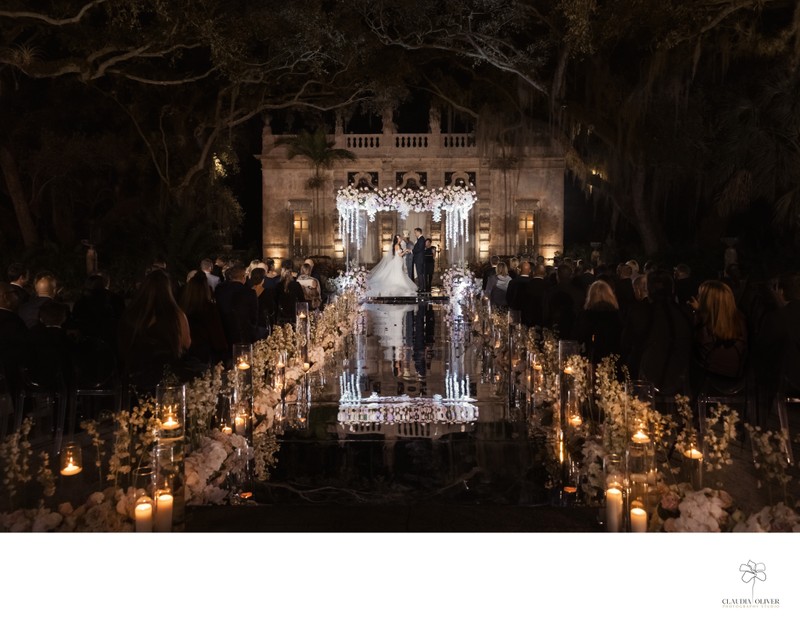 Why does the Vizcaya Museum rank among the top wedding destinations in Miami?

Italian-inspired architecture and European gardens make it an ideal venue for a wedding. There is no other place in Miami that blends natural beauty, historical architecture, and a bayfront setting like Vizcaya.
You can have a truly unique European-inspired wedding or imagine your wedding taking place in Northern Italy at the Villa d'Este on Lake Como.

The Vizcaya estate was originally built in 1922 by James Deering as a home to escape the cold winter months in the north. It is unique in every sense of the word, drawing tranquility that is rarely found in Miami. Vizcaya has been restored to its original glory in the modern world while maintaining the incredible character this property has exuded since its completion. It is a haven amid a bustling city that can hardly be described, and one of the top wedding venues in Miami.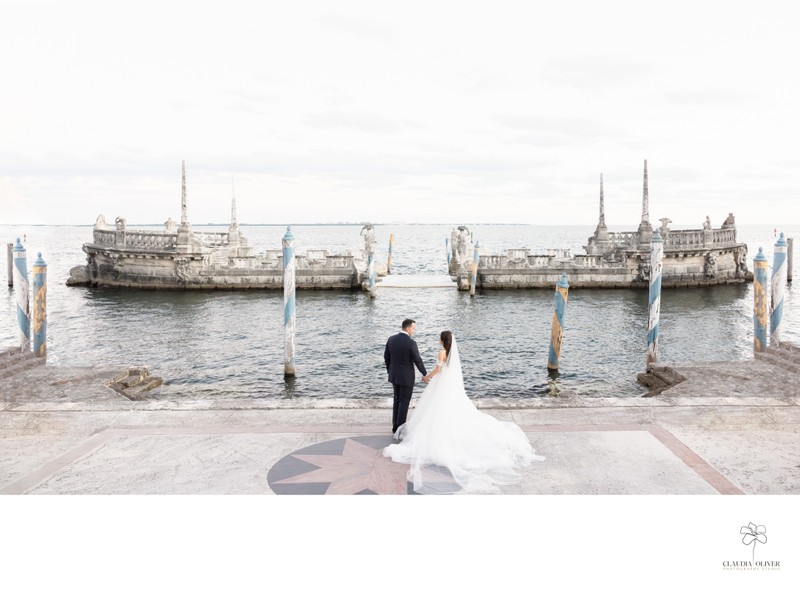 Vizcaya's Iconic Stone Barge: A Wedding Reception with a View
At this outdoor reception, attendees have a view of the water, ship,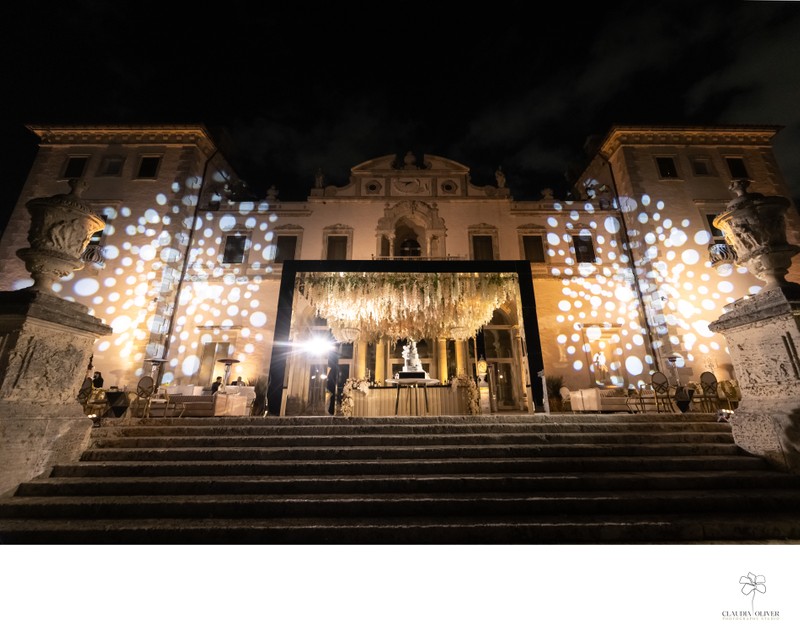 Among the top locations at Vizcaya for photo shoots are:
Secret Garden
Tea House
Vizcaya Stone Barge: "The Ship"
Easter Terrace
Main House
South Terrace
Center Island
Theater garden
Maze garden
Marine garden
Fountain garden
Garden Mound
Oval Plaza
The Forecourt Gates
South Terrace
The Enclosed Loggia
The Courtyard of the Main House.


The Perfect Cocktail Hour Inside Vizcaya Main House Courtyard
There are beautiful archways, ornate designs, and an extravagant glass ceiling at this architectural wonder, which provide a beautiful backdrop for many different parts of your wedding. A great indoor location for a rainy day backup for couple portraits, cocktail hour, or an intimate reception.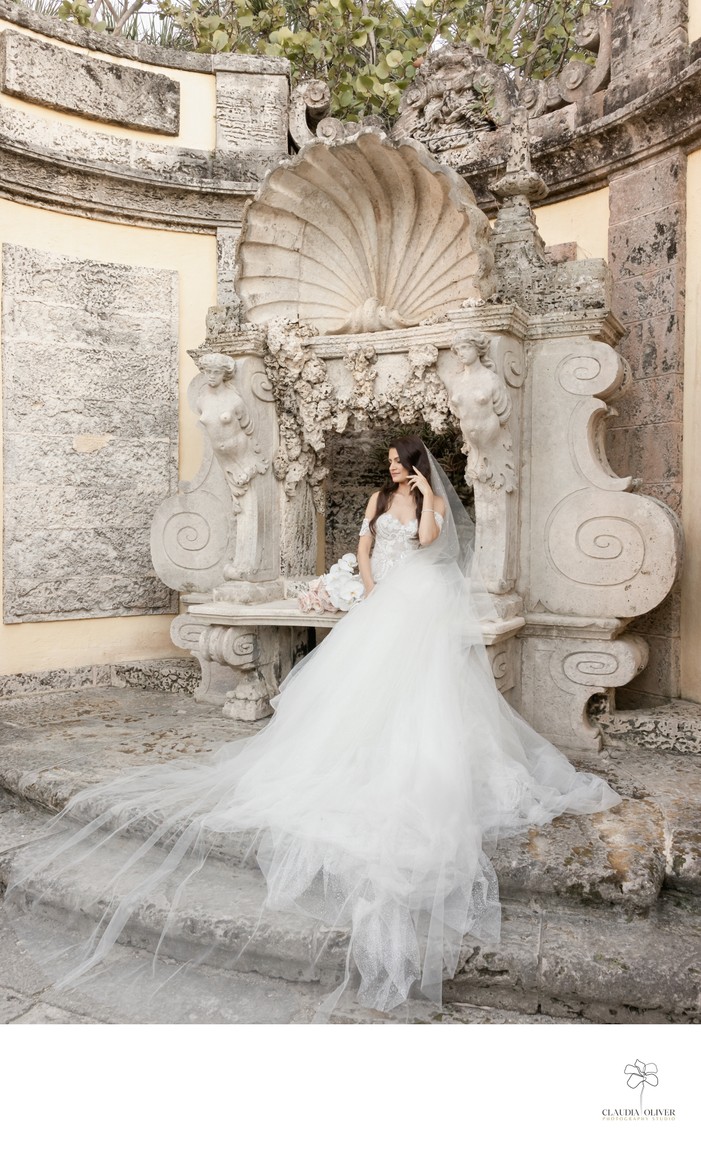 The Enclosed Loggia: Vizcaya's very own jewel box
In addition to its original stained-glass windows, theatrical wall coverings, and opulent design, this room has been a visitor favorite for quite some time. This might be Vizcaya's Main House's crown jewel. The stained glass windows show a Caravel, the symbol of Deering's estate during the winter. One of the other works is a Seahorse, which Paul Chalfin, Vizcaya's opinionated Artistic Director and friend to James Deering, viewed as the perfect symbol of Vizcaya's great country estate.


F.A.Q, Tips & RECOMMENDATIONS: Your answers to FAQs about Vizcaya weddings
The Ritz Carlton in Coconut Grove
Sparklers are not permitted at the Vizcaya Museum and Gardens. However, watching fireworks over Biscayne Bay is the best way to cap off a luxurious evening reception on Vizcaya's iconic barge. Be sure to follow local laws and to pay the additional fee of $5,000 (plus applicable taxes) to Vizcaya Museum and Gardens.


In front of the Casino located in mound garden, where usually ceremonies occur


The base price for an evening event with 125 guests is $12,500 on Friday, Saturday, Sunday, and Tuesday, and $7,500 on Monday, Wednesday, and Thursday. Each additional guest is $25. You will also need to pay a permit fee of $375 or more depending on how many guests you have.
Daytime ceremonies in the gardens cost $1,500 for up to 25 guests (including photographers and other vendors) and $25 for each additional guest beyond that.
In addition to the facility rental contract, all clients must obtain a Catering and/or Rental Equipment Permit, which will be included as part of the contract. The cost varies between $375 and $700 depending on the number of guests.
Tents are often recommended to be rented over the Vizcaya's East Terrace during inclement weather, however they are quite expensive, ranging from $2500 for a small white tent to $11,000 for a large transparent one.
An outdoor daytime ceremony at Vizcaya is best suited for an intimate party, and a maximum of 50 guests can attend.
You can hold an indoor reception in the Courtyard for up to 100 guests.
You can accommodate up to 300 guests if you have your Vizcaya wedding on the East Terrace overlooking Biscayne Bay.
Currently, Vizcaya is operated by the non-profit Vizcaya Museum and Gardens Trust, Inc., which is owned and maintained by Miami-Dade County.
To get a sense of how I document weddings at Vizcaya, see below my latest wedding photos at Vizcaya Museum & Gardens

.