Wedding Photographer Manhattan New York City (NYC)
Bethesda Terrace Engagement photos
Central Park's Bethesda Terrace Arcade connects the Mall with Bethesda Fountain and Central Park Lake by way of an arched passageway. This passageway connects the street level with the terrace beneath 72nd Street. From above, a broad staircase descends into a beautiful art piece.
A stunning ceiling of encaustic tiles from Minton Tile Company, designed by Jacob Wrey Mould in 1860, adorns the Arcade. Traditionally, these elaborate tiles adorned the floors of European cathedrals.
This is among the most beautiful places in Central Park and is one of its most iconic displays. The Terrace was designed to be used as a gathering place as part of the park's original design. Hence, it has remained a park feature for more than a century.
The Terrace's upper and lower levels are connected by two staircases. A view of the lake is offered from the upper level while views of the wooded Ramble are offered from the lower level.
In the Arcade you will find several striking features, but one that is easily overlooked if you are distracted by the murals and the magnificent architecture is the Minton tile ceiling located in the Center Hall. The Terrace's ceiling was designed in 1869 by British architect and designer Jacob Wrey Mould, who also designed its decorative carvings.
This Ultimate Guide to NYC Engagement Photos reveals the best locations and tips for taking engagement photos in New York City.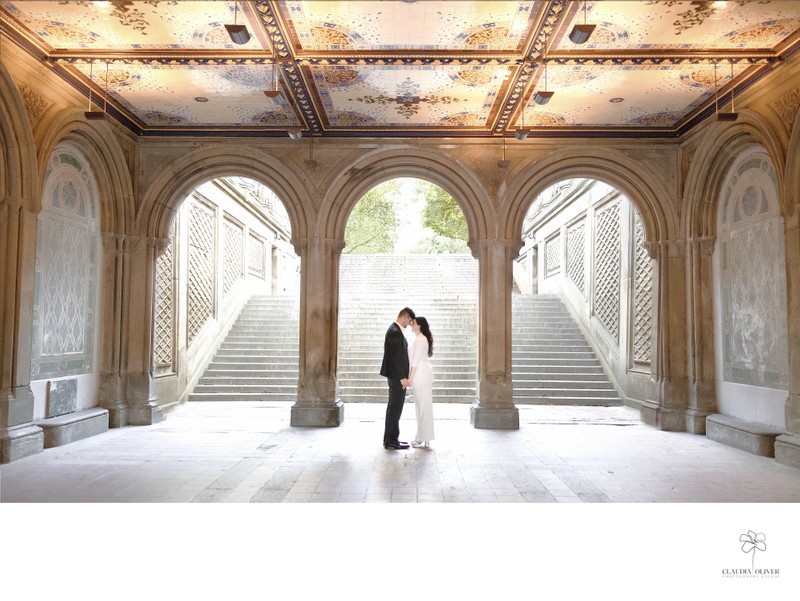 I can't wait to bring your engagement photos vision to life
Looking for an Engagement Photographer in NYC
Location: 72 Terrace Dr, New York, NY 10021.